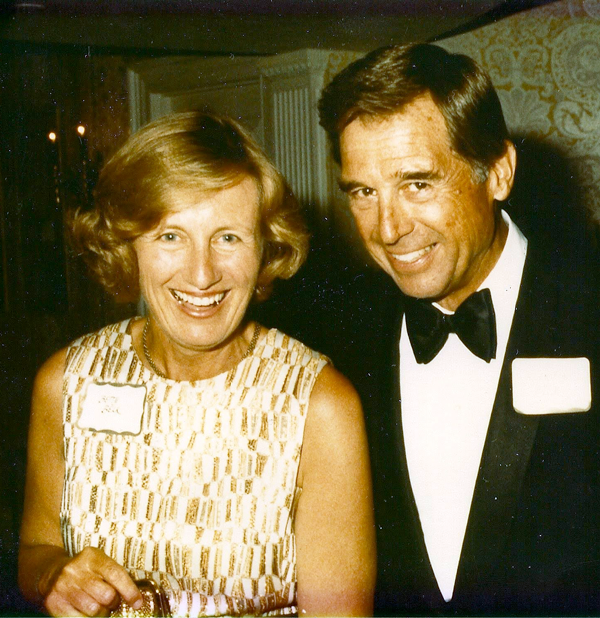 J. Blanton Belk
J. Blanton Belk was born on February 4, 1925 in Orlando, Florida as the only son of Reverend Dr. and Mrs. J. Blanton Belk, Sr.
Mr. Belk grew up in Richmond, Virginia, where he graduated from St. Christopher's School. During World War II, he enlisted in the US Navy and attended Davidson College in North Carolina while awaiting orders. Subsequently, the US Navy assigned him to the Naval V-12 Program at the University of North Carolina at Chapel Hill. After receiving his commission, he served as a naval officer on the cruiser, USS PCC-1178 in the Philippines.
During turbulent times in 1965, the opportunity came at a gathering of international young people who created a musical demonstration of hope and Sing-Out/Up with People was born. A global student journey to build bridges of understanding through music had begun. In 1968, with the encouragement of US President Dwight Eisenhower, German Chancellor Konrad Adenauer, and four-time Olympic gold medalist Jesse Owens, Mr. Belk incorporated Up with People as a non-profit, apolitical, non-sectarian international educational organization. Since 1965, 22,000 young men and women from 138 countries have participated in this program, developing the skills to become global citizens. Mr. Belk served as Chairman of the Board and President of Up with People from 1968 until his retirement in 1991, and currently serves as Founder and Chairman Emeritus.
In recognition of his work, Mr. Belk has received significant international honors during his career including the Order of Vasco Núñez de Balboa (Panama) and the Ordre de Léopold/Leopoldsorde (Belgium). He holds an honorary Doctorate of Humane Letters from Carroll University (Wisconsin). Also, he is a US Presidential Medal of Freedom nominee and has served on numerous international and national boards and committees including the Business Council for the United Nations, and the University of Peace (Costa Rica). Mr. Belk is a past member of the Advisory Board of the College of Nursing, the President's Club and the Friends of the Library Board at the University of Arizona. He has served on the Governor's Arizona-Mexico Commission. Belk is a member of the Graduate Club. He is listed in Who's Who in America, Outstanding Educators of America, and Community Leaders and Noteworthy Americans.
J. Blanton Belk is an active sportsman who enjoys hunting, fishing, boating, and hiking, while diligently working to preserve wetlands, wildlife and the environment. Most recently, he has been instrumental in placing 1000 acres in southeastern Arizona under a conservation easement in perpetuity. He is also working in partnership with Ducks Unlimited, an organization committed to preserving millions of acres of wetlands in the US, Canada and Mexico.
Mr. Belk and his wife and partner Elizabeth (Betty) Wilkes of Summit, New Jersey have been married for 65 years and live in Tucson, Arizona. The Belks have two daughters, Jenny Belk who is married to Ajay Gupta and Katie Belk Arenas, whose husband is Dr. Miguel Arenas. They have four grandchildren: Chameli and Surina Belk-Gupta; and Thomas and Mateo Belk-Arenas. Both Belks do extensive volunteer work in the community and are perpetually involved in supporting the mission of Up with People.